Paperless Cave Surveying
News:
PocketTopo Version 1.37 available for download (Oct./04/2012).
There are currently no DistoX upgrade kits available!
Update: See below (Oct./04/2012)
<![if !vml]>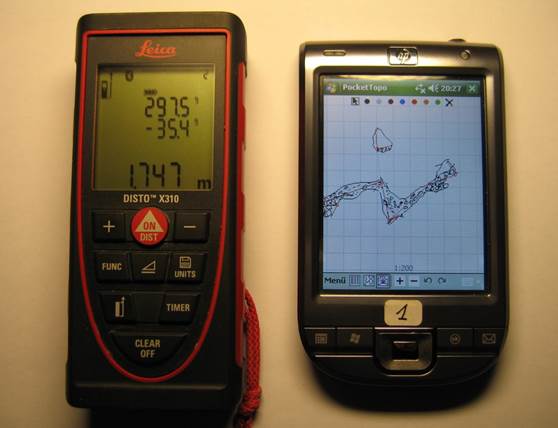 <![endif]>
The "paperless system" is an integrated electronic cave surveying tool. It consists of two parts: A combined Disto/compass/clinometer and a PDA based program to store and manage the measured data and to draw sketches directly on the screen. The two devices are connected by a wireless Bluetooth connection. Measurements are visible on the PDA screen within seconds. Results can be transferred to PC based cave surveying applications and graphics editors.
Advantages:
<![if !supportLists]>- <![endif]>Less errors (no typos, no sighting errors,  no mud covered paper, …)
<![if !supportLists]>- <![endif]>Free orientation of the device (no leveling)
<![if !supportLists]>- <![endif]>Free choice of direction (no steepness restriction)
<![if !supportLists]>- <![endif]>Free cross section measurements (no RLUD rules to follow)
<![if !supportLists]>- <![endif]>Immediate visualization of measured data
<![if !supportLists]>- <![endif]>Immediate consistency checks
<![if !supportLists]>- <![endif]>Faster and more precise sketching
Once you worked this way, you will never go back to paper and pencil!
The DistoX consists of a Leica Disto A3 and an upgrade kit which adds a 3-axis compass and clinometer and a Bluetooth connection. The upgrade kit consists of a PCB with a bunch of SMD components. It connect to the display of the Disto, reads the measured distances from it and displays the angles provided by the compass and clinometer. Up to 4000 measurements are stored in the device.
The upgrade board can easily mounted inside a Disto and fits entirely inside the original A3 case. No compromise to the robustness of the device!
The DistoX can be used as a stand-alone measuring device without a PDA, but the full power of the system is only available if the two devices are used in combination.
More information is available in the manuals on the downloads page.
The DistoX upgrade kit is no longer available because several of the key parts are no longer manufactured!
There was no success in building a version for the Leica Disto DXT. The DXT will soon be replaced by the Leica Disto X310. A project to build a new DistoX based on this model is in progress. Results will be published here.
Write to <![if !vml]>

<![endif]> to get more information.
This work is not related to Leica Geosystems AG.
I do not provide complete devices. You have to buy a Disto and modify it yourself.
Opening and modifying a Leica Disto will void the manufacturer's warranty and is done at your own risk!
Don't bother Leica with questions about the DistoX!
The PocketTopo Application      New: Version 1.37
PocketTopo is a .Net Compact Framework application running on most Windows Mobile devices including cheap PDAs and several Smartphones.
PocketTopo receives the measurements directly from the DiostoX. It allows to manage survey data, reference points, and trip information. Several views are available to show and edit the data: textual representation, cave map, and sketches. The sketch views show survey shots and cross sections and allow to make drawings directly on the screen, in both outline and side view.
<![if !vml]>

<![endif]>
PocketTopo allows any number of cross section measurements in arbitrary directions. This is a big help for precise sketches. All data editing and drawing operations support unlimited Undo/Redo. To prevent data loss, changes are stored continuously to nonvolatile memory.
The application also runs in a Mobile Device Simulator or directly on a Windows PC with the .Net Framework installed.
PocketTopo does not run on Palm devices. Palm owners may use the Auriga application instead.
The PocketTopo application and the manuals are available free of charge on the downloads page.
Home             Downloads              Frequently Asked Questions                  Links